This video is from our dash camera which shows the track into and out of Hanns Camp, 22 kms Northeast of Laverton, Western Australia. This is from our July 2018 Hanns Track adventure. Hanns Track is a little known mostly Four wheel drive track that runs from Laverton WA to Warburton WA through the Great Victoria Desert. The 6.3 km track into Hanns Camp is very easy for a 4WD and could possible be done in a high clearance AWD.
These are waypoints displayed using google maps which to take you into Hanns Camp from White Cliffs Road. The waypoints can also be downloaded (see below).
Hanns Camp east of Laverton Western Australia is where Frank Hann based himself from 1903 to 1908 where he conducted several expeditions through the Great Victoria Desert to the Warburton Ranges. Some of Hanns expeditions extended as far as the Petermann Ranges in central Australia and Oodnadatta in South Australia. . Hann is credited with the naming over 500 geographical features. Of note is that the Hann River,  Frank Hann National Park and Mount Hann have been named in his honour.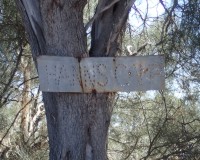 Hanns Track – The waypoints to Hanns Camp
Hits: 1199